Life's beauties, life's tragedies
Read the entire article: http://azstarnet.com/
Condensed by Native Village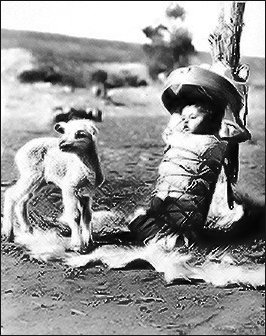 Glory Tacheenie-Campoy learned early that life is both beautiful and tragic.
She spent her infancy and early childhood strapped to her mother's back as her mother herded sheep and cows, gardened and tended her family. They moved frequently to find food and water for their animals. Sometimes they slept in tents, and other times they lived in hogans, the traditional Navajo home.
"My mom didn't go to school. She didn't speak English. She was completely immersed in the Navajo culture," said Tacheenie-Campoy, 59. Almost everything the family used was made at home: clothing, moccasins for ceremonies. They hunted and grew their food.

When Glory was ordered to attend an American Indian boarding school, her parents were too frightened to protest. "It was heartbreaking for me, as a child, to have to leave my mother," she said.

She was 6 when she arrived at the Tuba City school. She remembers the nights most, and sleeping on rows of cots with the other children. "It was like a military bunker," she said. "You could hear the children crying."

Everything was strange. She had to wear different clothing, eat new foods and learn a new language. Speaking Dinč/Navajo was forbidden.


But these changes were minor compared to what eventually happened to Tacheenie-Campoy, who nearly died at the school.
On that awful day her peers, frightened by an enraged adult at the school, fled up a flight of stairs and knocked her through the railing to the basement below.

"It seemed like days before my mother, father and brother came to visit me (in the hospital)," she said. "Parents and family weren't allowed to visit their kids at boarding school. It was heartbreaking and devastating for a child and parents to sever ties at such a young age."
After that year ended, Glory was sent to Flagstaff. She lived in a boardinghouse and attended public schools. During her elementary years, she became passionate about art.

Geronimo
"It was the only thing I could really understand until I could learn to read and write," she said

When high school ended, Glory attended the University of Michigan and earned a degree in art and American Indian studies. She also met her husband at UM, now-retired Pima County Judge Hector Campoy.

Glory's mother died in 2001 with her daughter by her side. "Before she passed away, I told her she would be remembered, and so I often talk about her," she said. "She was my hero."
Tacheenie-Campoy paints, sketches, weaves, and makes paper. She has shared her work and knowledge in the U. S. and Europe. Right now, Glory is in an abstract period.

"Some people go with a certain medium, and I find that limiting. Some people go with a certain style, and I get bored with that," she said. "There's so much out there, it's overwhelming," she said. "It seems everything I see influences what I do."

Her creations often reflect reservation life.

"My mother and father, aunt, uncle and grandfather have passed on but left with me memories and knowledge of Dinč language and culture," she said. "My grandfather was one of few elders who knew the Horse Chant, and my father was a participant in the yeibichai dance healing ceremony."
Keevin Lewis is from the Smithsonian's National Museum of the American Indian. He says Glory's work tells the stories of the land she loves and what it produces in terms of family relations, language and beliefs."

Migration
"In many tribal lifeways there is no word for art. I believe art for many indigenous people came as an economic survival entity to very harsh living conditions," Lewis said. "In Glory's situation, I believe art became a personal means of expression of contemporary social conditions and the world."

For example, Tacheenie-Campoy created a series of abstract botanicals inspired by her mother's knowledge of healing plants.

Another piece, titled "Umbilical Cord," is an abstract woodcut print. Tacheenie-Campoy created it to honor the Dinč/Navajo belief that "the Earth is our mother." After each birth, Tacheenie-Campoy said, her own mother buried her newborn child's umbilical cord, according to tradition.

"I interpret this practice as reconnecting or strengthening our kinship bond with the Earth," she said.
Native Village Home Page
Backgrounds: Robert Kaufman Fabrics: http://www.robertkaufman.com/
NATIVE VILLAGE website was created for youth, educators, families, and friends who wish to celebrate the rich, diverse cultures of The Americas' First Peoples. We offer readers two monthly publications: NATIVE VILLAGE Youth and Education News and NATIVE VILLAGE Opportunities and Websites. Each issue shares today's happenings in Indian country.
Native Village is responsible for format changes.
Articles may also include additional photos, art, and graphics which enhance the visual appeal and and adds new dimensions to the articles. Each is free or credited by right-clicking the picture, a page posting, or appears with the original article.
Our hopes are to make the news as informative, educational, enjoyable as possible.
NATIVE VILLAGE also houses website libraries and learning circles to enrich all lives on Turtle Island.

Please visit, and sign up for our update: NativeVillage500@aol.com.